Expert Physical Therapy in a Convenient Setting
Whether you're on your way to work, going home at day's end, or on your lunch break, we make it easy for you. Our beautiful midtown facility offers changing rooms, gowns and showers for your convenience. We treat a wide variety of conditions. Some of the most common include: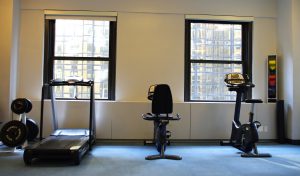 Acute Injuries
Fractures/dislocations, ligamentous sprains, tendon injuries, meniscal injuries, muscle strains and tears
Post-operative Rehabilitation
ACL reconstruction, meniscectomy, rotator cuff repair, labral repair, acromial decompression, achilles tendon repair, total hip replacement, total knee replacement
What to expect after shoulder surgery
What to expect after knee surgery
Chronic Conditions and Pain
Low back pain, neck pain, bursitis, tendonitis, osteoarthritis
If your therapist has given you a set of exercises to do at home, you can view videos on the exercises page.